We love steel tubing – and so do you guys – our steel frame outsold our alloy one by a factor of 10:1 (well, until someone dropped the price right down to clear the alloy ones out!). But steel tubing was a bit of a dull thing. We thought we'd spend time thinking and working on it to make it better.
How do you improve on a product that's been around for ages? Show it off!
Conventional tubing is very clever. It starts off as a round tube with all the tube the same thickness throughout. Then, using metal trickery, the tube is thinned in the centre – BUT THE OUTSIDE DIAMETER STAYS THE SAME. It's a drawing and re-drawing process, and it's very neat and smart, but basically it hides all the clever stuff away inside.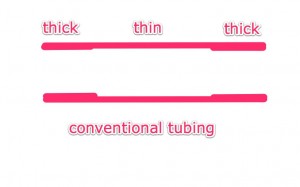 Everyone uses tubing like this. It's really hard to make, but that uniform outside diameter, with hidden thinned walls is the way its done. We thought that was silly.
For our first Blue Pig frames, we used a tube on the top tube of the bike that had a thicker section at the head tube end. This tube was originally designed as a seat tube, but we liked the thicker head tube section which let us do clever things with transfer gussets and stuff to beef the front of the frame up without adding too much stiffness. Remember – a larger diameter tube is stronger than a smaller diameter one of the same weight. But it's a lot stiffer too. And whilst stiffness is great in some areas of a bike, too much stiffness in some areas is bad.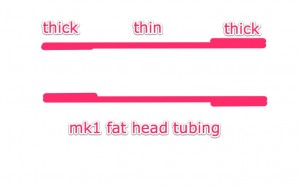 Our Mk1 Fat head tubing therefore,  was just with an external butt at the end. The tube just got thicker, but stayed the same diameter inside. It was half way there. We liked the external bulge, and it did a lot in terms of strength, but we knew we could do it better.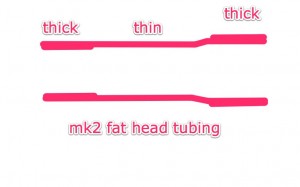 And lo… Mk2 Fat Head Tubing. The stressed end of the tube gets fatter, as well as the wall getting thicker. Taming those stresses with increased diameter and increased wall thickness, all in a dynamic way you can see. We use this on all our steel frames for this year. It means we can remove external saddle gusseting though of course, we still keep our box-head gusset on the back of the head tube which braces the back of the head tube and strengthens the junction of the main tubes and the head tube.